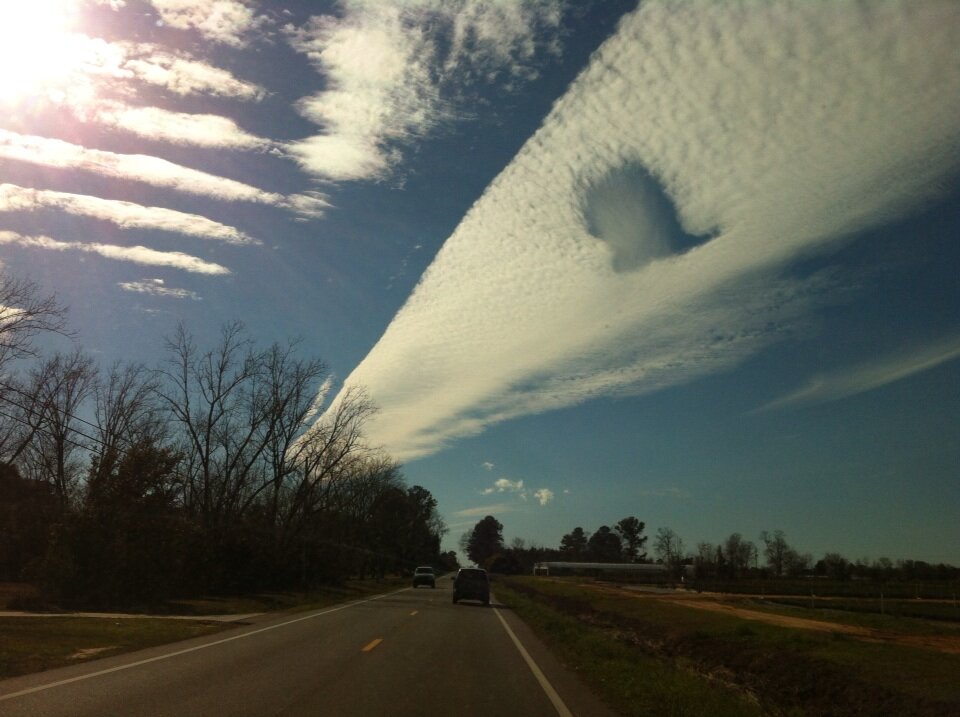 A Sylph INSIDE A Chemtrail, Which Is Next To HAARP Cloud
This photo came from Alabama on Feb. 27th…
What are we seeing?
1. The big white cloud cover is a chemtrail.
2.  The punchcloud sylph inside is a sky elemental being, that are now commonly seen in skies all over the world (usually not inside a chemtrail but rather on the outside).  Sylphs are the sky guardians who have been on this planet much longer than humans.
3.  The striped formation on the left of this image may be HAARP clouds… magnetic pulsations sent to a sky laced with metallic chemtrails, can zap energy in places, to modify weather and much other nastiness.
Obviously to an awakened being, there is a sky war going on, already…  obviously the Light is destined to win…  no humans are allowed to destroy the planet…  skeptics… try paying conscious attention to the sky and see what is actually going on right above you, that you may not have noticed before.   The sylphs are our allies… ask them for a visitation and then pay attention.
Humans… we share the sky with all beings and all generations… time for peace there too…
Three eyes open, 12 chakras activating,  and heart pulsations to all universes….
WHAT DO WE SEE IN THE SKY! category at LISTEN TO THE RED SHAMAN 2013 BLOG
https://sylphsandufocloudships.wordpress.com/
http://www.youtube.com/user/Indianinthemachine/videos?query=sylph